Regular price
Sale price
£44.00 GBP
Unit price
per
Sale
Sold out
Chaga has the appearance of burnt charcoal when grown in its natural environment due to a large amount of melanin and brownish colouring on the inside.
It is rich in beta-glucans and contains ergosterol (vitamin D2). Chaga has an antioxidant effect and is believed to detoxify the body. Studies have indicated that the mushroom is more potent without or with minimal heat treatment.
Contains no artificial colouring, preservatives or flavours. This product should not be used as a substitute for a varied and balanced diet
Direction for use: For use as a food supplement, take 2 grams (2 heaped spoons as provided in the tub), 1-3 times a day with or without food. The powder should be mixed thoroughly with e.g. water, yoghurt, non-citrus fruit juice or milk.
Please note: Do not exceed the recommended daily intake. Store in a cool, dry place away from direct sunlight. Keep out of reach of young children.
Ingredients

Pure premium Chaga mushroom powder.
How to use

2g of powder (2 heaped spoons), 1-3 times daily with or without food. 

This powder can be added to any meal/drink (excl. citrus products). 

Serving spoon included inside.
Shipping

Free UK Shipping Over £30.

Standard Shipping (2-3 working days) is £5.95.

Additional shipping options are calculated at checkout.
Return policy

We have a 30-day return policy.

To be eligible for a return, your item must be in the same condition that you received it and in its original packaging. You'll also need the order confirmation as proof of purchase.
View full details
The Versatile One

Chaga has been historically used to treat a range of conditions, including cancers, viral/bacterial infections and gastro-intestinal disorders. Chaga's most important components are a large number of betulinic acid derivatives and melano-glucan complexes. 

Effective For Psoriasis

Northern European studies have shown that consuming Chaga is beneficial for psoriasis which is supported by a test conducted on 50 psoriasis patients. There was a reported 76% cure rate, with a further improvement found in an additional 16% of cases. 

Anti-Viral Properties

Consuming Chaga mushroom has also been traditionally used to treat a number of viral conditions.
Charismatic Chaga
In the eyes of Traditional Chinese Medicine, this fungus is neutral (almost sweet) in flavour, with a slightly warm nature. It's function predominantly targets the spleen, stomach and liver meridians to regulate qi (vital energy).
Chaga has been known to potentially assist digestive disorders, pressure/distention of the stomach, reduce abdomen pain, intestine inflammation, belching, lack of appetite, strongly expel wind, invigorate qi, preserve the liver, tonify the kidneys whilst calming the heart and mind.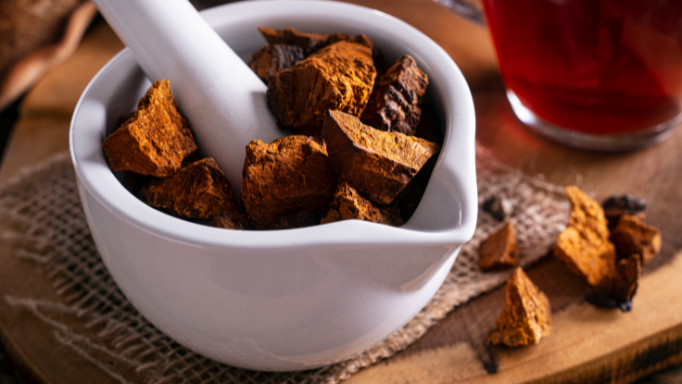 Magic Mycology
Our mushrooms are grown under highly controlled and hygienic conditions in California.
Free from GMOs, artificial preservatives and colourings, all of our products are tested in California and Germany to ensure zero contamination of heavy metals.
Naturally gluten free, Kosher and suitable for vegetarians