Regular price
Sale price
£28.80 GBP
Unit price
per
Sale
Sold out
Cordyceps contains considerable amounts of adenosine and is believed to aid in the production of adenosine triphosphate (ATP), a molecule that provides energy for physiological processes such as the contraction of muscles, which is integral for athletic performance.
It also contains cordycepin which reduces inflammation in the airways and increases oxygen utilization and delivery of oxygen to the muscles.
Direction for use: For use as a food supplement, take 2 grams (2 heaped spoons), 1-3 times a day with or without food. The powder should be mixed thoroughly with e.g. water, yoghurt, fruit juice or milk.
Please note: Do not exceed the recommended daily intake. Store in a cool, dry place away from direct sunlight. Keep out of reach of young children.
Ingredients

Pure premium Cordyceps mushroom powder.
How to use

2g of powder (2 heaped spoons), 1-3 times daily with or without food. 

This powder can be added to any meal/drink (excl. citrus products). 

Serving spoon included inside.
Shipping

Free UK Shipping Over £30.

Standard Shipping (2-3 working days) is £5.95.

Additional shipping options are calculated at checkout.
Return policy

We have a 30-day return policy.

To be eligible for a return, your item must be in the same condition that you received it and in its original packaging. You'll also need the order confirmation as proof of purchase.
View full details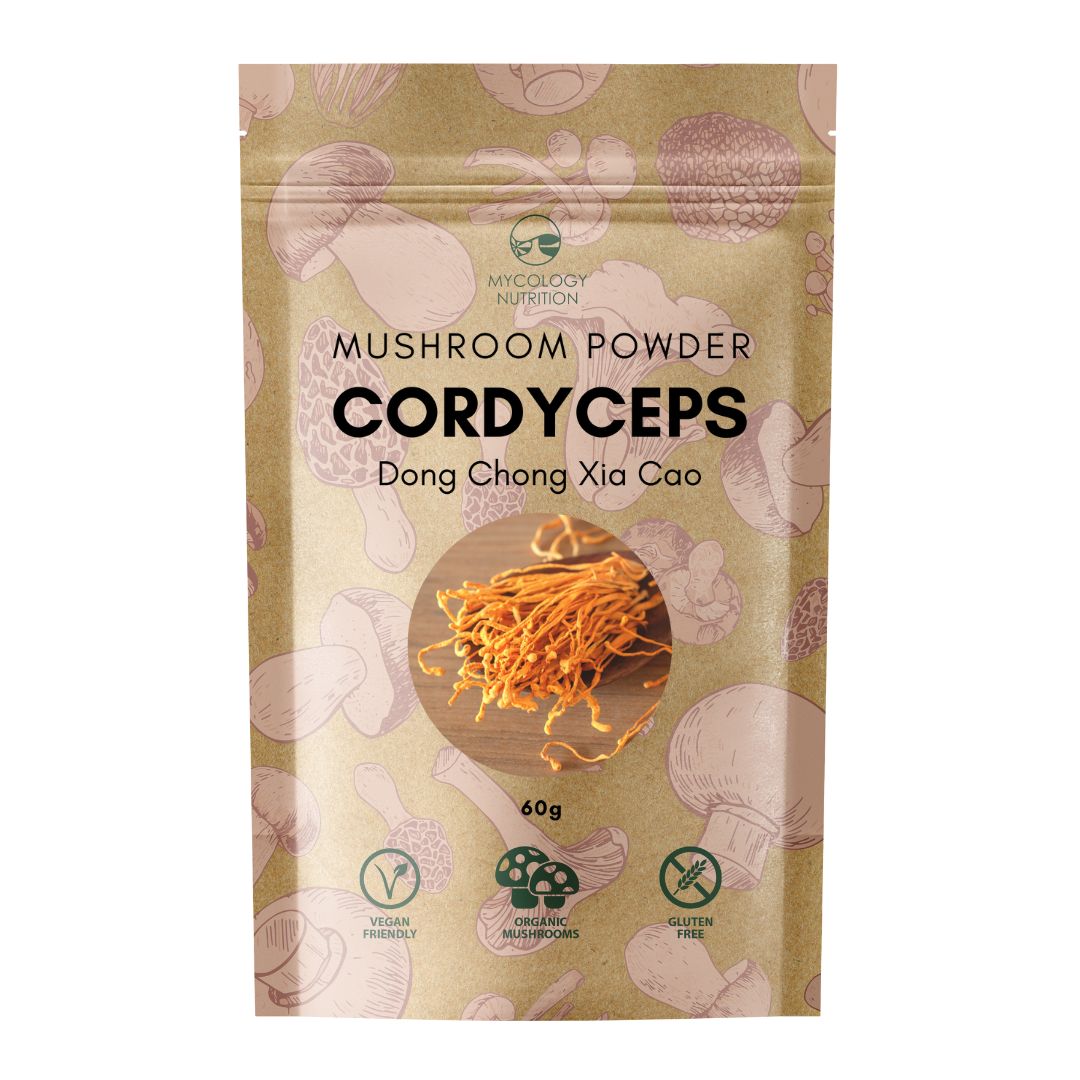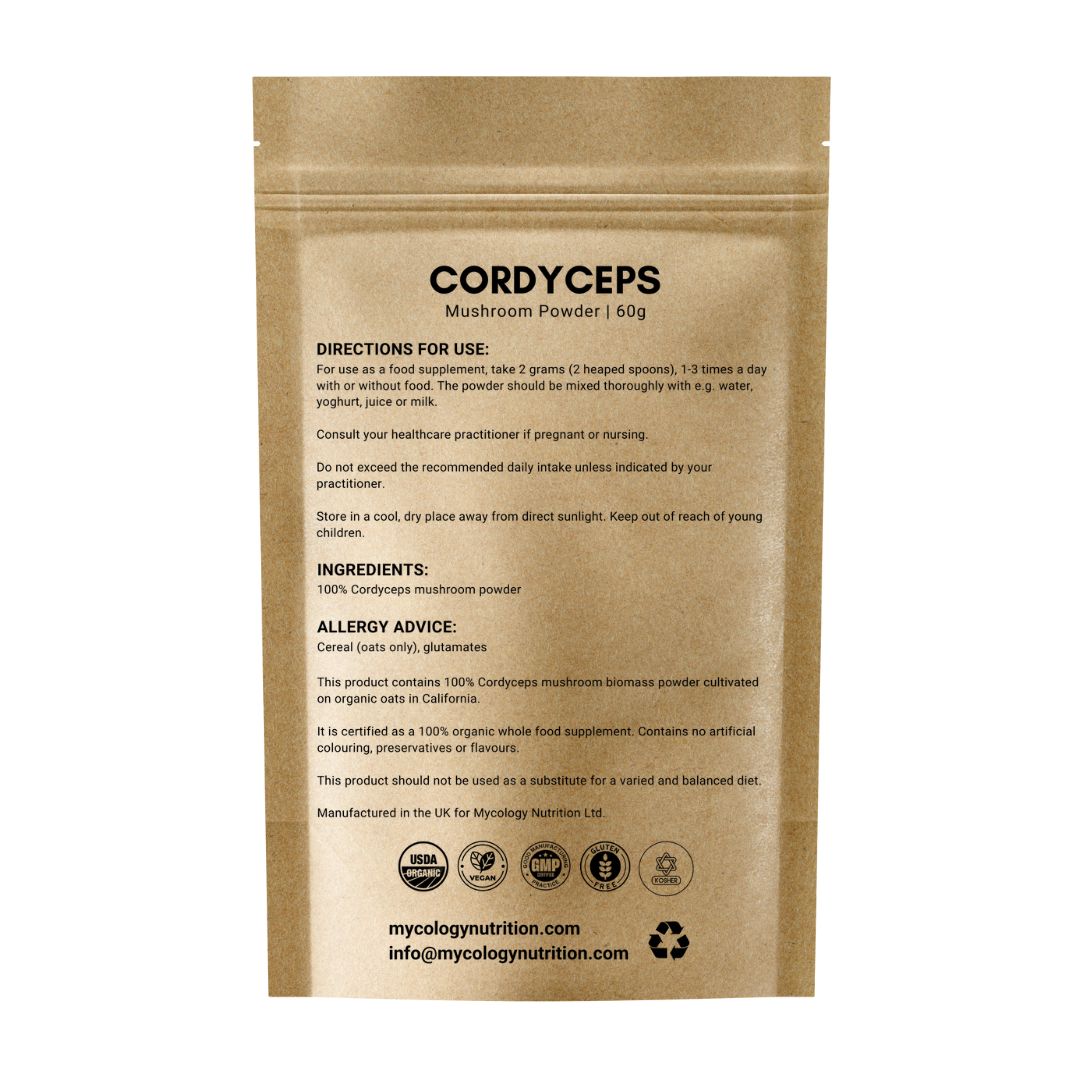 Get Up & Go

Consuming his mushroom may increase the potential of oxygen-carrying capacity of the blood. Cordyceps is used by many high-altitude mountain climbers. Additional scientific studies in the healthy elderly showed significant increases in aerobic capacity and resistance to fatigue. Other research has shown increases in energy output and oxygen capacity in sedentary people.

Become the Better You

Scientific analysis of Cordyceps capsules have indicated the potential to assist by aiding muscle contractions before and after exercise. By optimising your performance, this could have a positive influence on your fitness and physical activity goals.

Reverse the Cycle

Cordyceps capsules have been traditionally used as a supplement to potentially reduce fatigue and recover from long-term illnesses. The antioxidant content in this fungus may explain its anti-aging potential. Scientific studies with Cordyceps in healthy elderly individuals also showed potential of memory improvement.
Charming Cordyceps
In the eyes of Traditional Chinese Medicine, this fungus is sweet in flavour, warm in nature and targets the lung and kidney meridians. 
Cordyceps is said to assist with nourishing the lung yin, tonify the kidney yang, qi (vital energy) and essence. 
It can also be beneficial to tonify Weiqi, transform phlegm in the body, address impotence, back pain, chronic cough, breathlessness and compromised immunity. 
Magic Mycology
Our mushrooms are grown under highly controlled and hygienic conditions in California.
Free from GMOs, artificial preservatives and colourings, all of our products are tested in California and Germany to ensure zero contamination of heavy metals.
Naturally gluten free, Kosher and suitable for vegetarians