Regular price
Sale price
£44.00 GBP
Unit price
per
Sale
Sold out
Lion's Mane mushroom is identifiable as a large white fungus, with a long shaggy spine.  
This 'shroom contains bioactive substances that have beneficial effects on the body, especially the brain, heart and gut.
Prized for its potential to assist with mental health disorders, Lion's Mane has been used historically to strengthen the spleen, nourish the gut, and a cancer fighter. 
Direction for use: For use as a food supplement, take 2 grams (2 heaped spoons as provided in the tub), 1-3 times a day with or without food. The powder should be mixed thoroughly with e.g. water, yoghurt, non-citrus fruit juice or milk.
Please note: Do not exceed the recommended daily intake. Store in a cool, dry place away from direct sunlight. Keep out of reach of young children.
Ingredients

Pure premium Lion's Mane mushroom powder.
How to use

3 tablets, 1-3 times a day. 90 capsules per bottle.
Shipping

Free UK Shipping Over £30.

Standard Shipping (2-3 working days) is £5.95.

Additional shipping options are calculated at checkout.
Return policy

We have a 30-day return policy.

To be eligible for a return, your item must be in the same condition that you received it and in its original packaging. You'll also need the order confirmation as proof of purchase.
View full details
Re-Connect Your Puzzle

Consuming Lion's Mane is linked to the ability to stimulate the production of nerve growth factor (NGF), with lower levels of NGF being directly linked to early stages of both Alzheimer's Disease and dementia.

Turn That Frown Upside Down

Prized for its potential to lower anxiety, consuming Lion's Mane may assist mental health disorders whilst helping to protect/strengthen the body's immune system.

Bring Vitality To Your Soul

A study in older adults with mild cognitive impairment found that consuming 3g of Lion's Mane supplements daily for 4 months significantly improved their mental function. Studies also indicate Lion's Mane could be useful in improving and controlling blood sugar levels.
Lovely Lion's Mane
In the eyes of Traditional Chinese Medicine, this fungus is sweet-to-plain in flavour, balanced in nature, targets the liver and kidney meridians. 
Cordyceps is said to assist with benefiting the five zang, aid digestion, heal inflammation, strength, clear and replenish the spleen, increase qi (vital energy) and calms the spirit.
Lion's Mane mushroom aids pressure and distention of the stomach, suppresses abdominal pain, intestine inflammation, belching, bleeding in stools, lack of appetite and addresses nervous weakness.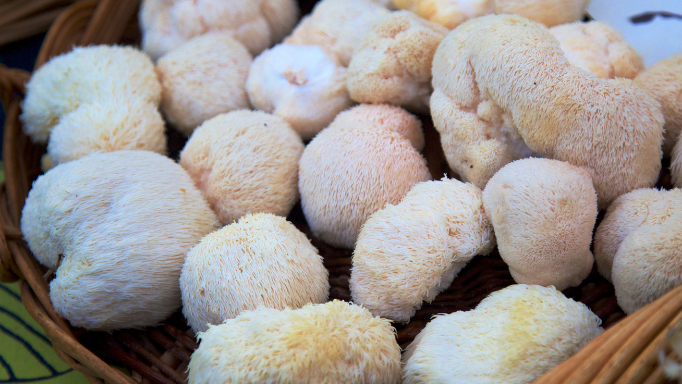 Magic Mycology
Our mushrooms are grown under highly controlled and hygienic conditions in California.
Free from GMOs, artificial preservatives and colourings, all of our products are tested in California and Germany to ensure zero contamination of heavy metals.
Naturally gluten free, Kosher and suitable for vegetarians